Once the body was off we were on the hunt for the VIN. We need that to prove the vehicle matches the bill of sale to be able to get it titled in the US.
The guy we bought the truck from had at one point tried to paint the frame and axles, with limited success. Much of where he painted is still bubbling from rust underneath. Seems they just painted over it. Hence sand blasting. Start with a newly cleaned frame, and then we will coat it with Herculiner. But first, where is our VIN number?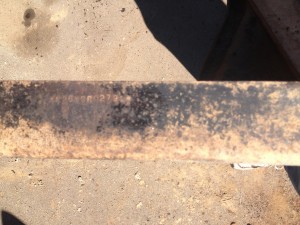 It was on the right frame rail top side under the cab. No wonder the guy at the border couldn't find it dad.  😀  This means we will be able to legally title the truck as it was built. a 1973 F250 Highboy 4×4. WOOT!
VIN F26YCR0279
Decoded VIN:
F26YCR0279
Truck Series Code: F250 4 Wheel Drive
Engine Code: V8 – 360cid – 2BBL carb – 1973-76
Assembly Plant: Ontario, Canada
Build Sequence: R0279