We pulled the front leaf springs from the front axle of the 73 to begin cleaning them so we can mount the front axle from the 78.
I wasn't able to get far enough away from the spring to get it into one shot, but this is one of the front springs before dis assembly.
After getting them torn apart, and wire brushing each leaf individually, we found there were groves in the leaves ranging from light indents, to ones on the main spring closer to an eighth to quarter inch deep. A bad thing when the leaves are only about a half inch deep to begin with. Whomever had the truck before me painted springs with a rustolium paint because they thought the rust was ugly. Upon cleaning them there was dirt/rust, then black paint, then more rust, before eventually finding the original metal. The paint had turned into a tar type substance between the leaves, and the leaves instead of flexing, started digging into one another.
Some before and afters:
Notice the lines in the spring on the right? that's where the spring on the left was wearing groves into it. Eventually the springs will need to be replaced, but for now, we will likely just use them to get the frame on wheels so its moveable.
Pressing out the bearings on the main leaf was a chore and a half. They had warn into the gap between the eye and where it wraps back to the spring. It literally took about all of the 20 tons the press jack can put out to get them out. They would make a loud pop noise and move about a quarter to half inch at a time. The spring literally was expanding to let the bushing pass thru the gap in the spring. A bit startling the first time it happened. 😀
In case anyone was wondering what the original part number for a front leaf spring on a 73 F250 4×4 is its C7TA-5310AR Of course this part number is from a Canadian truck, and i believe its been superseded by another part number in later years. However this was on the spring: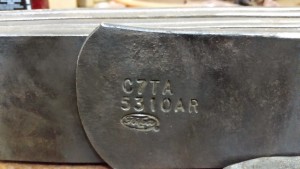 We didn't get to pulling the rear springs apart, but just for documentation, they are only 9 leaves tall. They are also a mix of paint and rust and likely in as rough of shape as the front springs were. For now we will leave them as is, until we decide about replacing them.